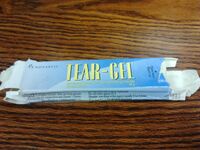 Barcode0063601662596 is found on a small cardboard box (27 x 20 x 105), containing one 10g tube of Tear-Gel. A smaller data matrix code is found on both tabs.
Description
Tear-Gel is a sterile ophthalmic liquid gel.
Text on the side reads: ph adjusted with sodium hydroxide. Do not store above 25°C..
Packaging
The text is in both English and French
Producer
It is made by Novartis Pharmaceuticals Canada Inc. It is manufactured in Germany.
External links
EANdata.com has more information on this product and many more.